Iraqi Premier Inspects Tal Afar Operations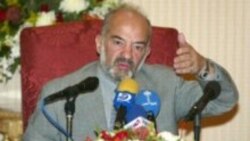 Prime Minister al-Ja'fari (file photo) 12 September 2005 (RFE/RL) -- Iraqi Prime Minister Ibrahim al-Ja'fari visited the northern town of Tal Afar today to see U.S. and Iraqi military operations to rid the area of insurgents.
Iraqi and U.S. troops
launched an assault
on 10 September against an estimated 350-500 insurgents in the town near the Syrian border. Since late August, U.S. and Iraqi forces have killed scores of suspected insurgents and captured over 200 in the area.
Today, the 10,000-strong U.S. and Iraqi fighting force tightened their grip on Tal Afar, pushing out insurgents.
The U.S. military says that Tal Afar has become a major staging post for foreign fighters infiltrating Iraq from Syria.
(AFP/dpa/Reuters)
For RFE/RL's full coverage of developments in Iraq, see "The New Iraq"