France Threatens Iran With UN Security Council Action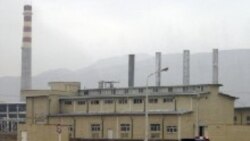 Iran's Isfahan uranium-conversion site 14 September 2005 -- French Prime Minister Dominique de Villepin called today for Iran to keep its nuclear nonproliferation promises or face action before the UN Security Council.
Villepin told a summit of world leaders at the United Nations that it would be legitimate to refer Iran to the Security Council if it "fails in its obligations under the Nonproliferation Treaty."
Under an agreement made last year with Britain, France, and Germany, the Iranian government agreed to suspend its program leading to the enrichment of uranium.
Iran insists its atomic program is peaceful but the United States accuses Tehran of seeking to manufacture a nuclear bomb.
(AFP)
For all the news on this issue, see RFE/RL's website: Iran's Nuclear Program