Iran Offers Nuclear Technology To Islamic States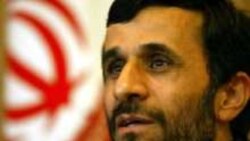 Iranian President Ahmadinejad (file photo) 15 September 2005 -- Iranian President Mahmud Ahmadinejad said today that Iran is ready to share its nuclear technology with other Islamic states.
He also reiterated that Iran is not seeking to develop weapons of mass destruction.
Ahmadinejad made his remarks to Turkish Prime Minister Recep Tayyip Erdogan on the sidelines of a United Nations summit in New York.
Ahmadinejad is due to address the UN General Assembly later today.
The United States accuses Iran of using its nuclear program to covertly develop an atomic arsenal.
(AFP/Reuters/IRNA)
[For more on Iran's nuclear ambitions, see RFE/RL's Iran's Nuclear Program page.]