Ukrainian Youth Activist Deported From Azerbaijan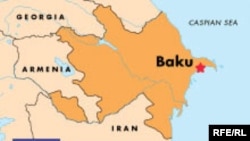 (RFE/RL) 17 September 2005 -- An opposition party in Azerbaijan said today that the government has deported a visiting leader of Ukraine's Orange Revolution who had planned to attend a political conference in the capital Baku.
Musavat party leader Isa Gambar, who invited Ukrainian activist Serhiy Yevtushenko, said that he was informed that Yevtushenko was put on a plane to Donetsk last night and "is now in Ukraine." Airport officials detained Yevtushenko -- a leader of the Pora youth movement that played a lead role in the uprising against Ukraine's pro-Moscow regime, and a former adviser to Ukraine's foreign minister -- upon his arrival on 15 September.
The deportation follows the arrest of three members of a youth protest movement modeled on Pora that has adopted the orange campaign color amid rising tensions ahead of the country's 6 November parliamentary elections.
(AFP)