Ukrainian Parliament To Vote On Premier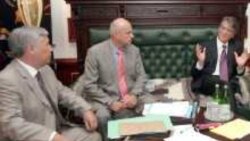 Acting Prime Minister Yekhanurov (L) meeting with President Yushchenko (R) (file photo) 20 September 2005 (RFE/RL) -- The Ukrainian parliament met today to consider the candidacy of acting Prime Minister Yuriy Yekhanurov to head the country's government.
President Viktor Yushchenko appointed Yekhanurov, a long-time political ally, as acting prime minister after he
fired the government
of Prime Minister Yuliya Tymoshenko earlier this month amid allegations of high-level corruption.
Yekhanurov
has pledged to form a cabinet based on professionalism, not on party politics.
Yushchenko, who has urged parliament to approve Yekhanurov, met with a series of faction leaders late on 19 September in a last-minute bid to win their support.
Tymoshenko, who has moved into opposition since her government was sacked on 8 September, has also been meeting political leaders in a bid to defeat Yekhanurov.
Yekhanurov needs 226 votes in the 450-member parliament to be approved to the post.
(Interfax)