Council Of Europe Appeals To Georgia, South Ossetia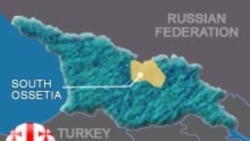 23 September 2005 (RFE/RL) -- The secretary-general of the Council of Europe today urged country member Georgia and its separatist republic of South Ossetia to de-escalate tensions over a series of armed incidents.
Terry Davis said in a statement that "the people living in Georgia do not want another war" and urged both sides to lay down their weapons and talk.
Davis said Georgian President Mikheil Saakashvili assured him of his willingness to settle the ongoing dispute through talks in a telephone conversation.
South Ossetian authorities on 21 September said several mortar shells fired from a nearby Georgian village hit the city of Tskhinvali, wounding at least seven civilians. The incident took place while Tskhinvali was celebrating the 15th anniversary of South Ossetia's de facto independence.
The following day, Tbilisi accused separatist forces of shelling two ethnic Georgian villages of South Ossetia. No casualties were reported.
The U.S. State Department earlier today called upon both sides to show restraint.
See RFE/RL's coverage of events in
Ossetia
.