New Ukrainian Premier To Announce New Government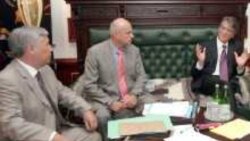 Yekhanurov (left) with President Yushchenko last week 24 September 2005 -- Newly-appointed Ukrainian Prime Minister Yuriy Yekhanurov said today in Kyiv that he will announce most of his new government on 27 September.
Yekhanurov said that by late on that day he will have named most of his new ministers. He added that any vacant positions that remain will be filled by the end of the week.
Yekhanurov was approved by parliament on 22 September on the second attempt, replacing Yuliya Tymoshenko, who was dismissed along with her government earlier this month.
Yekhanurov is expected to make the announcements from the eastern city of Donetsk, where most of the population opposed President Viktor Yushchenko in last year's presidential elections.
(AFP)
See also: "Ukraine: No Clear Winners From Government Crisis"