Iran Threatens To Resume Uranium Enrichment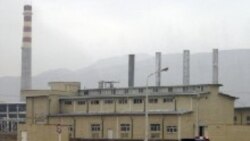 Iran's Isfahan nuclear facility 26 September 2005 -- Iran says it will resume uranium enrichment and stop allowing snap UN inspections of its nuclear facilities if moves to report it to the Security Council are not reversed.
A Foreign Ministry statement -- read on state television late today -- said Iran "would cancel all its voluntary and temporary measures including implementation of the additional protocol."
The Additional Protocol to the Nuclear Nonproliferation Treaty allows unannounced checks of nuclear facilities.
The board of governors of the UN's atomic watchdog agency, the IAEA, passed a resolution on 24 September based on Iran's failure to persuade the international community that its nuclear program is entirely peaceful.
The resolution did not specify a date for referring Iran to the Security Council.
(AFP/Reuters)
For more on Tehran's nuclear activities, see RFE/RL's webpage "Iran's Nuclear Program"