Drive-By Shooting, Bombings Kill Four In Baghdad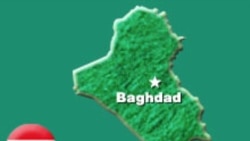 29 September 2005 -- Insurgents in Iraq today continued their campaign of violence, killing at least four people and wounding eight others in two bombings and a drive-by shooting that appeared to target civilians in Baghdad.
U.S. President George W. Bush yesterday
predicted increased bloodshed
ahead of October's referendum on Iraq's draft constitution.
The latest violence came one day after a female suicide bomber killed herself and at least five others outside an army recruitment center in the northern city of Tal Afar, where U.S. and Iraqi forces recently completed an intense counterinsurgency operation.
Yesterday's suicide bombing was the first known case of a woman carrying out a suicide bombing in Iraq.
President Bush defended his policies in Iraq yesterday, saying he has a clear strategy for victory there. Senior U.S. commanders in Iraq are set to testify today in the U.S. Congress about U.S. efforts in Iraq.
(Reuters/AFP/AP/dpa)