U.S. Presses Offensive In Western Iraq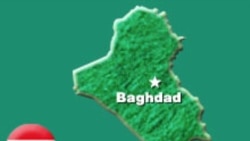 5 October 2005 (RFE/RL) -- U.S. troops today pushed ahead with their big offensive in western Iraq, designed to clear insurgents from three Euphrates River towns.
The Associated Press reported blasts from U.S. warplanes lit up the sky in the town of Al-Hadithah as Marines moved in.
Marine Captain Shannon Neller said troops were concentrating on "systematically clearing" Al-Hadithah by house-to-house searches.
There was little resistance, and many insurgents appeared to have slipped out of the town.
On the political scene, the United Nations and United States have
raised concerns
about new rules passed by the Iraqi parliament that would make it more difficult for voters to defeat the draft Iraqi constitution in this month's referendum.
A UN official is quoted as saying a possible solution is being negotiated with deputies.
(AP/AFP)
For RFE/RL's full coverage of the 15 October constitutional referendum in Iraq, see "Iraq Votes: Constitution Referendum"