IAEA Chief Hopeful Over Iran-Europe Talks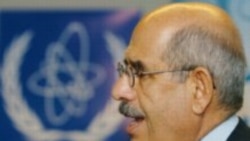 IAEA Director-General el-Baradei (file photo) 5 October 2005 -- The head of the International Atomic Energy Agency, Muhammad el-Baradei, said today he is optimistic that talks between Iran and the European Union on Iran's nuclear program will resume within a month.
El-Baradei, who is in Moscow, said Russia is engaged in seeking to restart the negotiations, which broke up without agreement in September. The Europeans appear to be moving toward referring Iran to the UN Security Council for possible sanctions.
"In Iran, we have a hiccup right now," el-Baradei said. "The negotiation between the Europeans and Iran has come to a halt. I am, however, optimistic that in the next month or so we will see some resumption of these negotiations."
El-Baradei said the partners need to find a "face-saving solution."
Iranian officials reiterated yesterday that the country is ready to reopen talks with Europeans over its nuclear program.
Iranian President Mahmud Ahmadinejad told state television today that Iran is in favor of negotiations, but only if its right to pursue nuclear technology is acknowledged.
Iran's ambassador to the UN, who was generally regarded as a moderate influence among Iran's nuclear negotiators
recently quit the nuclear negotiating team
, according to a report by IRNA today.
(AFP/AP)
For more on this topic, see our special Iran's Nuclear Program page.