EU Opens Talks With Serbia And Montenegro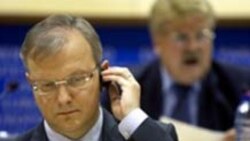 EU Enlargement Commissioner Olli Rehn (file photo) 10 October 2005 -- The European Union commissioner responsible for enlargement today opened talks with Serbia and Montenegro on forging closer ties with the EU.
Commissioner Olli Rehn's visit comes after EU foreign ministers last week approved the start of talks aimed at leading to a stabilization and association agreement, a first step for Serbia and Montenegro's bid for EU membership.
Rehn is due to meet top Serbia-Montenegro government officials, including the prime ministers of the two republics, which replaced federal Yugoslavia in 2003.
The EU says Serbia-Montengro's possibility of eventually entering the 25-member bloc depends on capturing suspected war criminals.
(Reuters/AFP/AP/Hina)
Also see our dedicated European Union Expands Eastward page.