Video Shows Insurgents Shooting Abducted Iraqi Police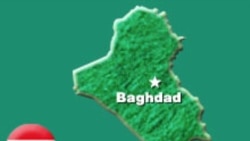 11 October 2005 -- A video was posted on an Islamic website yesterday showing purported Iraqi militants shooting dead two Iraqi policemen.
The Army of Ansar Al-Sunna said it carried out the executions, but the claim could not be immediately verified.
The police officers were captured while traveling from Baghdad to the northern city of Kirkuk.
Ansar Al-Sunnah has previously claimed responsibility for a number of car bombings and attacks on U.S. troops, foreign civilians, and Iraqis that the group termed American "collaborators."
(AP)
For the latest on events in Iraq, see RFE/RL's The New Iraq