Intellectual Father Of Perestroika Dies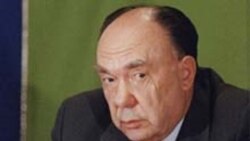 Aleksandr Yakovlev in a 1989 file photo 18 October 2005 -- Aleksandr Yakovlev, a key architect of Soviet leader Mikhail Gorbachev's policy of glasnost and perestroika, has died after a long illness, according to RFE/RL's Russian Service and local news sources.
Russia's Ekho Moskvy radio station reported the news today, quoting former Kremlin administration head Sergei Filatov.

Yakovlev was 82.

Russia's ITAR-TASS news agency says he died in Moscow today of an unspecified illness.

Yakovlev, who joined the Soviet Communist Party's ruling Politburo in 1987, spearheaded Gorbachev's drive to encourage liberalization of Soviet society and press freedom. He is considered by many as the intellectual father of Gorbachev's glasnost (openness) and perestroika (restructuring).

Yakovlev also played a key role in exposing past crimes of the Soviet regime.

He was critical of Russian President Vladimir Putin's restrictions on democracy.