NATO Chief Meets With Ukrainian Officials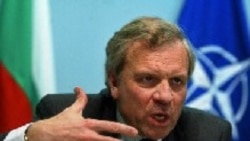 NATO chief de Hoop Scheffer (file photo) 19 October 2005 -- NATO Secretary-General Jaap de Hoop Scheffer is due to meet with Ukrainian Foreign Minister Borys Tarasyuk and Defense Minister Anatoly Gritsenko in Kyiv today to review the republic's bid to join the alliance.
During his visit to Ukraine, de Hoop Scheffer is scheduled to also meet President Viktor Yushchenko and Prime
Minister Yuriy Yekhanurov. He is also expected to take part in a NATO-Ukraine commission meeting and participate in
consultations with Ukraine's top security body -- the National Security and Defense Council.
The Interfax-Ukraine news agency quoted de Hoop Scheffer as saying on arrival in Kyiv yesterday that it is an important
visit to discuss Ukraine's Euro-Atlantic aspirations.
Yushchenko has made it clear he wants to bring Ukraine into the European Union and NATO.
(AP)
For more news about NATO expansion, see RFE/RL's webpage NATO Enlargement