Security Boosted In Iraq For Hussein Trial Lawyers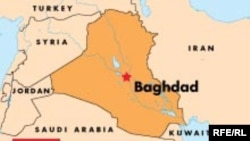 (RFE/RL) Officials in Iraq today are implementing increased security measures to protect defense lawyers in Saddam Hussein and seven co-defendants' trial, after one of them was kidnapped and killed by armed men disguised as security forces.
General Hussein Ali Kamal, a deputy minister in the Interior Ministry, confirmed today that decisions have been made on how to increase security for the attorneys, but he declined to give details.

The trial of the eight men for alleged crimes against humanity in connection with a 1982 massacre of Shi'ites started on 19 October but was adjourned until 28 November after Hussein entered a plea of not guilty.

Meanwhile, Iraqis are still awaiting the outcome of the country's 15 October constitutional referendum. The results have been delayed until at least next week due to a vote audit.

(Reuters/AFP)
For more on events in Iraq, see RFE/RL's The New Iraq webpage.