Andijon Trial Enters Final Phase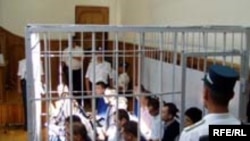 The defendants listening to closing arguments in Tashkent today (RFE/RL) 26 October 2005 (RFE/RL) -- Lawyers today began their closing arguments at the trial of 15 people accused of organizing an antigovernment revolt in the eastern Uzbek city of Andijon, RFE/RL's Uzbek Service reported.
The closing arguments could continue into next week.
Uzbek authorities say 187 people -- mostly Islamic militants -- were killed in the 13 May Andijon violence after troops were called in the stop the uprising. Rights groups say many more, including civilians, were killed.
Uzbek soldiers have testified that they had offered protesters safe passage out of the city, but that protesters started firing on hostages.
Prosecutors say that protesters were killed by other protesters in confused fighting.
The trial also saw one witness contradict the official version of events. Mahbuba Zokirova told the court on 14 October that she saw government troops open fire on crowds of civilians during the unrest.
The 15 defendants have all admitted guilt to charges of membership of banned Islamic groups, terrorism, and murder. They all face possible execution.
Uzbek authorities say more than 100 people have been detained pending trials for their alleged involvement in the Andijon unrest.