Belarus Police Arrest 70 For Unauthorized Meeting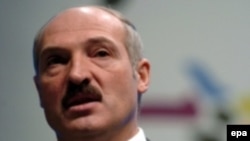 The opposition is hoping to unseat Belarusian President Alyaksandr Lukashenka (epa) Minsk, 29 October 2005 (RFE/RL) -- Belarusian police today arrested 70 members of an independent election monitoring group, who were attempting to register in the country.
Nikolai Astreika, the leader of the Partnership group, said police raided the meeting, held at a theater, and arrested 70 members on charges of attending an unauthorized meeting.
Astreika said the group was aware of a prohibition on unauthorized meetings but needed to assemble and hold a founding congress so they could gather the necessary documents to register.
Astreika said police broke up the meeting before it started.
Belarus will hold a presidential election in 2006.
(With agencies)