UN To Vote On Syria Resolution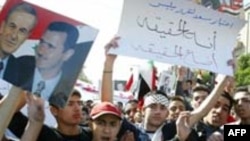 Syrians demonstrating in support of their government last week as the UN report was issued (AFP) 31 October 2005 -- The United Nations Security Council is expected to vote today on a resolution demanding Syria cooperate with a probe into the murder of former Lebanese Prime Minister Rafik Hariri or face possible sanctions.
The resolution is co-sponsored by the United States, France, and Great Britain -- all permanent Security Council members with veto powers. The other two permanent members -- Russia and China -- oppose the imposition of sanctions. Joining them is Algeria, a non-permanent Security Council member and its only Arab representative.
A report by the UN investigating commission has implicated top Syrian and Lebanese security officials in the February bombing in Beirut that killed Hariri and 20 others.
Syria has strongly denied the charges.
(Reuters/AP)