Bombs Kill 13 In Baghdad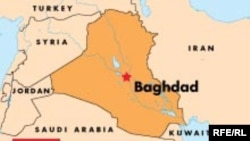 (RFE/RL) 7 November -- Police say a suicide car bomber killed nine people, including six Iraqi policemen and three civilians in southern Baghdad today.
The attack came after mortar bombs killed four people in the east of the capital.

In fighting near the Syrian border, 2,500 U.S. Marines and 1,000 Iraqi soldiers backed by tanks and air strikes searched house-to-house on the third day of a major offensive.

The U.S. military said that operation has killed a number of suspected insurgents as soldiers continued today to comb the town of Husaybah in a bid to destroy the terrorist network operating in the area. One U.S. marine was killed yesterday in the fighting.
Meanwhile in Italy, visiting Iraqi President Jalal Talabani is asking Rome to keep its troops in Iraq in a letter published in today's "La Stampa" newspaper. Italy has some 3,000 soldiers in southern Iraq.

(compiled from agency reports)