Foreign Minister Alikbek Jekshenkulov said the negotiations brought together top defense and diplomatic officials from both sides.
The Foreign Ministry said both sides agreed "to review technical and financial agreements on the use of the air base."
Kyrgyzstan wants the United States to pay more for the use of the Ganci air base at Manas airport near Bishkek, the Kyrgyz capital.
The U.S. military has been using the air base since the end of 2001 for conducting security and humanitarian operations in Afghanistan.
(ITAR-TASS/AP)

Central Asia Bases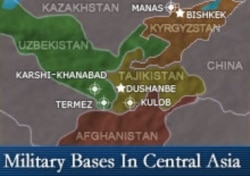 Click on the map for an enlarged image.