Car Bomb Kills At Least Five In Iraq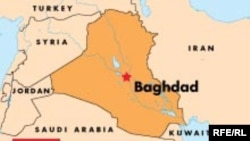 (RFE/RL) 9 November 2005 -- Police in Iraq say a suicide car bomb in the city of Ba'qubah has killed at least five police officers.
Police say the attack in the mixed Shi'ite-Sunni Arab city 65 kilometers north of Baghdad injured about nine others.
There has been no claim of responsibility.
Authorities have predicted an increase in violence as the country prepares for 15 December parliamentary elections following the recent ratification of a new constitution.
(Reuters/AFP/AP)