British Foreign Secretary Arrives In Baghdad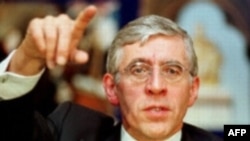 U.K. Foreign Secretary Jack Straw (file photo) (AFP) 10 November 2005 -- British Foreign Secretary Jack Straw arrived in Baghdad early today for talks with Prime Minister Ibrahim al-Ja'fari.
Few other details of Straw's itinerary were immediately available.
He arrives in Baghdad a day after the defense team in Saddam Hussein's trial said it will not show up for the next session 28 November unless the court accepts its demands for "neutral international intervention" to guarantee security.
Their declaration yesterday followed the assassination a day earlier of a second defense lawyer in the trial.
Adil al-Zubaydi, lawyer for former Vice President Taha Yassin Ramadan, was killed by gunmen in Baghdad and another attorney was wounded.
(AP)
Saddam Hussein In Pictures

A slideshow of photographs from Saddam Hussein's years ruling Iraq through his downfall.