Azerbaijan President Fires Officials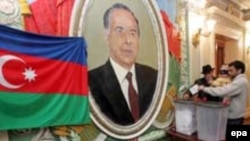 Voting in Azerbaijan on 6 November (epa) 10 November 2005 -- Azerbaijani President Ilham Aliyev has sacked two officials who were accused of fraud during disputed parliamentary elections over the weekend.
The officials were the governors of the districts of Suraxani and Sabirabad.
The elections, won by the ruling New Azerbaijan Party, have been criticized by international observers.
Prosecutors said four election officials have also been detained on suspicion of falsifying balloting results and abuse of office.
The move came a few hours after thousands of opposition protesters took to the streets of the capital, Baku, demanding fresh elections.
The Azadliq -- or Freedom -- opposition coalition said its next rally will be on 12 November. It is not clear whether the government will permit it.
(AP/Interfax)