Putin Marks Police Day With Praise, Advice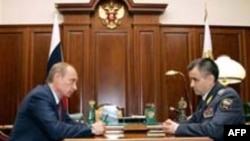 President Putin (L) meeing with Interior Minister Nurgaliev in the Kremlin today (AFP) 10 November 2005 -- Russian President Vladimir Putin, marking national Police Day, today praised recent achievements by the country's Interior Ministry but said many issues remain.
At a Kremlin meeting, Putin told Interior Minister Rashid Nurgaliev that law-enforcement units appeared to be working better in the fight against organized crime.

But he said one of the challenges still facing the ministry is improving its public image.
"Interior Ministry troops and units combatting crime, including organized crime, are becoming more and more effective," Putin said. "At the same time there are still many unresolved problems, as you know. Interior Ministry agencies, the police, should work to gain greater credibility with society."
Nurgaliev said Russian police this year solved 1.3 million crimes and prevented almost 1,000 terrorist acts.

He also said police had investigated more than 25,000 cases connected to organized crime.

(itar-tass)



SUBSCRIBE For news and analysis on Russia by e-mail,
subscribe to "RFE/RL Russia Report."