Azerbaijani Opposition Rallies For New Vote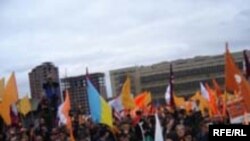 Demonstrators waving Ukrainian flags and orange banners in Baku on 13 November (RFE/RL) Baku, 13 November 2005 (RFE/RL) -- Thousands of opposition supporters in Azerbaijan gathered in the center of the country's capital Baku today to protest last week's parliamentary elections, RFE/RL's Azerbaijani Service reported.
The opposition, which held a peaceful rally in the capital last Wednesday, says the 6 November vote was fraudulent and wants new elections to be held.
International organizations have also criticized the polls, saying they failed to meet international election standards.
Authorities have warned that the protest will be forcefully dispersed if the rally overstays its legal permit.
According to official results, the ruling Yeni Azerbaijan party of President Ilham Aliyev won the elections, taking about half the seats in the 125-member national assembly.
In comments carried on 12 November by state-run media, Aliyev ruled out any popular revolution in Azerbaijan.
(with material from AFP)

A photogallery of the Azerbaijan opposition protests in Baku on 9 November.