Baghdad Blast Targets Police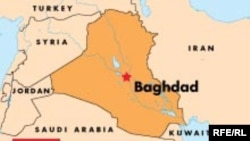 (RFE/RL) 14 November 2005 -- A bomb has exploded outside Baghdad's heavily fortified Green Zone, causing casualties.
Reports say the bomb was targeting a checkpoint or a police patrol.
Police Captain Nabil Abdelqadir said at least one police officer was killed and four police officers and three civilians injured.
Abdelqadir added that police have not yet confirmed initial reports that a suicide bomber detonated the car.
(AP/Reuters/AFP)