Fighting Erupts In Ukrainian Parliament During WTO Talks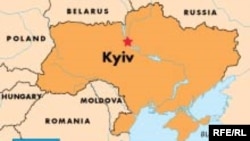 (RFE/RL) 15 November 2005 -- Ukrainian lawmakers threw punches and wrestled with one another today as fighting interrupted a parliamentary vote on a series of bills needed for Ukraine to enter the World Trade Organization, or WTO.
Parliament deputies managed to pass one bill on food sanitation rules before fighting broke out between pro-government lawmakers and Communists who oppose Ukraine's WTO bid. Deputies later passed two additional bills, but were forced to postpone work on five more.
President Viktor Yushchenko has named WTO entry as a top goal for Ukraine.
Today's fight was the second time violence has broken out in the Ukrainian Parliament during deliberations over WTO legislation. (interfax-ukr/ap)