U.S. Says World Should Worry About Nuclear-Armed Iran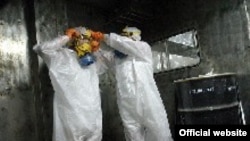 Iranian nuclear workers (file photo) (official site) 16 November 2005 -- U.S. Assistant Secretary of State for European and Eurasian Affairs Daniel Fried has said the international community should be worried about the possibility of Iran acquiring nuclear weapons.
Fried told reporters in Vienna on 15 November that Iran has quote "evident ambitions to develop nuclear weapons" and that it was necessary to deal with Iran diplomatically.
Fried said the UN's International Atomic Energy Agency should "act with determination" when it meets next week at a key meeting on Iran's nuclear program.
Iran says it is developing nuclear energy for civilian purposes and will not produce weapons but some countries, the United States among them, believe the ultimate goal of Iran's nuclear development program is to make nuclear weapons.
(AP)


THE COMPLETE PICTURE: RFE/RL's complete coverage of controversy surrounding Iran's nuclear program.
CHRONOLOGY
An
annotated timeline
of Iran's nuclear program.