Iraq: Probe Under Way Into Treatment Of 170 Mostly Sunni Detainees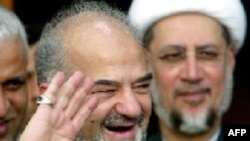 Iraqi Premier Ibrahim al-Ja'afari (file photo) (AFP) Iraqi Prime Minister Ibrahim al-Ja'afari has ordered an investigation into the treatment of more than 170 mostly Sunni detainees who appear to have been tortured. The men were discovered in a raid by U.S. forces on an Iraqi Interior Ministry building in Baghdad on 14 November. Al-Ja'afari said the prisoners were malnourished and that there were signs that some of them had been tortured. An investigating committee is to report on its findings within two weeks.
Prague, 16 November 2005 (RFE/RL) -- An investigation is under way into the alleged abuse of more than 170 prisoners found in an Iraqi Interior Ministry bunker in Baghdad.
U.S. troops discovered the detainees on the night of 14 November in an underground cell in an Interior Ministry building in central Baghdad.
Hussein Kamal, Iraq's deputy interior minister, told Reuters that he is shocked by the discovery.
Analysts and politicians say the discovery of the detainees -- and the allegations of abuse -- are deeply embarrassing to the
Iraqi government.
Mahmud Othman is an independent Kurdish member of the Iraqi parliament. He tells RFE/RL it is difficult to believe that the detainees -- who are believed to be mostly Sunnis -- could have been held in the building without the knowledge of Awni Yervas, Iraq's interior minister.
"It is really amazing," Yervas said. "I mean, how could that happen? Even if [Yervas] didn't have the knowledge, that is also a big weakness in the ministry. How could he have no knowledge about 170 people being tortured? It is not acceptable. I don't know what excuse they will have. It's a big problem for the government." Othman called on Yervas to resign.
Yervas is a high-ranking member of Iraq's largest Shi'a religious party, the Supreme Council for the Islamic Revolution in Iraq (SCIRI). The Badr Brigade, the military wing of SCIRI, is the main suspect in the scandal. The organization has repeatedly been accused of extrajudicial detentions and abuses against Sunni Arabs.
Othman says initial suspicions are falling on the Badr Brigade: "The Badr Brigade has been helping the Ministry of Interior and other Iraqi forces in combating terrorists or insurgents -- whatever you call them. They may be [involved]. I am not sure of that. I don't have [evidence], but you cannot exclude that. These things should be very thoroughly investigated."
Yahia Said is a researcher on Iraq and other transitional countries at the London School of Economics. He says the scandal will only increase the deep distrust that already exists between the Shi'a and Sunni communities in Iraq: "It will give people ammunition, [to those] who are aiming to foment sectarian strife, including Al-Qaeda. It will give them ammunition in their rhetoric."
"It will give people ammunition, [to those] who are aiming to foment sectarian strife, including Al-Qaeda. It will give them ammunition in their rhetoric."
Iraq's main Sunni Arab-backed party's spokesman, Alaa Makki, blamed U.S.-led coalition forces for the abuse, saying it could not have happened without their approval.
The United States said it is troubled by the reports. The State Department said the United States does not practice torture and does not condone its use by others.
Hussein Shukur Falluji, a leading Sunni politician, accused the government of not thoroughly investigating increasing violence targeting Sunni Arabs.

SUBSCRIBE For weekly news and analysis on Iraq by e-mail,
subscribe to "RFE/RL Iraq Report."