U.S. Cautious On Death Of Kazakh Oppositionist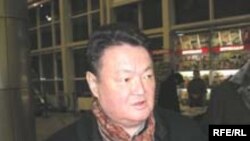 Zamenbek Nurkadilov (file photo) (RFE/RL) 17 November 2005 -- The U.S. State Department says it is too early to say whether the murder of a Kazakh opposition leader was politically motivated.
Zamanbek Nurkadilov -- an outspoken critic of President Nursultan Nazarbaev -- was found shot dead in his home in Almaty on 12 November.
Kazakhstan's main opposition coalition -- For a Just Kazakhstan -- said "without any doubt" the murder was politically motivated.
State Department spokesman Adam Ereli said in a statement that police in Almaty are investigating the murder and that Washington believes it is too early to determine if the 61-year-old Nurkadilov was killed because of his political activities.
(AFP)