Lukashenka Says Opposition Has No Support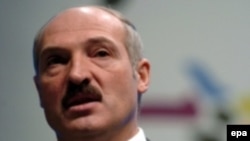 President Lukashenka (file photo) (epa) 17 November 2005 -- Belarus President Alyaksandr Lukashenka said today those hoping to vote him out of office next year in presidential elections are losing support.
In remarks aired on state-run Bel-1 television, Lukashenka said anyone interested in staging a revolution in Belarus like those in Georgia or Ukraine would fail because they would receive no support from workers, factories, farmers, the military, or the elderly.
But he indicated that he had no plans to reduce or halt broadcasts of foreign television programs in his country. Lukashenka said 90 percent of the country's population are in favor of foreign broadcasts.
Lukashenka said while the government should be involved in media policy it should "do so in a civilized manner without playing favorites."
(Reuters/dpa)
RFE/RL Belarus, Ukraine, And Moldova Report

SUBSCRIBE For weekly news and analysis on Belarus, Ukraine, and Moldova by e-mail,
subscribe to "RFE/RL Belarus, Ukraine, And Moldova Report."