U.S., Europe To Discuss Iran Today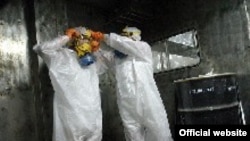 Iranian nuclear workers at the Isfahan facility (file photo) (official site) 18 November 2005 -- Officials from the U.S., Britain, France, and Germany hold consultations today on Iran's nuclear program.
U.S. Undersecretary of State Nicholas Burns will take part in today's meeting in London with officials from the three EU countries spearheading efforts to persuade Tehran to give up all uranium-enrichment activities.
Next week, the board of the International Atomic Energy Agency meets to discuss whether to refer Iran to the UN Security Council for possible sanctions.
IAEA inspectors are reported to have witnessed a new round of uranium conversion at the Isfahan facility in Central Iran.
Iran rejects American charges it is using its nuclear program to develop nuclear weapons.
(AP/dpa/AFP)

THE COMPLETE PICTURE: RFE/RL's complete coverage of controversy surrounding Iran's nuclear program.
CHRONOLOGY
An
annotated timeline
of Iran's nuclear program.