U.S. Soldiers Mistakenly Kill Three Iraqis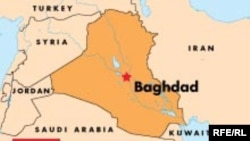 (RFE/RL) 21 November 2005 -- U.S. soldiers fired today on a civilian vehicle they feared might hold a suicide bomber, killing at least two adults and a child.
A U.S. military spokesman said the troops fired on the civilian car because it was moving erratically outside a U.S. base in Baqouba, 55 kilometers northeast of the capital Baghdad.
The spokesman said it was "one of these regrettable, tragic incidents."
Iraqi officials have complained about American troops firing at civilian vehicles that fail to approach checkpoints carefully or otherwise appear suspicious.
U.S. officials point to the heavy toll of suicide car bombers who often strike U.S. and Iraqi checkpoints.
(AP)

SUBSCRIBE For weekly news and analysis on Iraq by e-mail,
subscribe to "RFE/RL Iraq Report."