The latest IAEA meeting comes two months after the board issued a resolution that criticized Iran for not cooperating with the agency sufficiently. That resolution noted that "after 2 1/2 years of intensive inspections and investigation" the IAEA believes "Iran's full transparency is indispensable and overdue." It also hinted at the possibility of referring Iran to the UN Security Council.
Laptop Info
In the run-up to this week's meeting, there are renewed allegations that the Iranian nuclear program is not intended solely for energy production, as Tehran contends. The "New York Times" reported on 13 November that information purportedly found on an Iranian laptop computer secured by a U.S. intelligence agency reveals a "long effort to design a nuclear warhead." The newspaper goes on to charge that the information on the laptop is evidence that Iran is trying to design a "compact warhead" for use on the 1,300-kilometer-range Shahab-3 missile. Senior U.S. intelligence officials reportedly described this information in a meeting with IAEA officials in Vienna in July.
Tehran rejected the "New York Times" report. "This is a worthless attempt to fabricate a scenario," Foreign Ministry spokesman Hamid Reza Assefi said on 13 November, according to state television. "We don't use laptops to carry out our confidential work. [The report] caused amusement at the Foreign Ministry." Supreme National Security Council official Javad Vaidi said allegations like this appear before every governing board meeting, "Aftab-i Yazd" reported on 17 November.
Although many outside experts are suspicious about the ultimate purpose of Iran's nuclear program, some have questioned the validity of these specific allegations and worry that they distract attention from other concerns about the program.
Misstated Significance
David Albright, a nuclear expert at the Institute for Science and International Security in Washington, DC, told Radio Farda that the "New York Times" report misstates the significance of the information discussed by the U.S. officials. "There is nothing in the document that says nuclear, nuclear warhead or anything like that," Albright said. (Listen to Radio Farda's interview with Albright. Click here for Real Audio and here for Windows Media.)
Albright said the warhead's payload is described as a "round object that is set off by certain type of electrical equipment that is typical for what's used in a nuclear weapon," adding that the warhead is set to go off at an altitude that is consistent with a nuclear weapon. "It looks like a reentry vehicle for a nuclear weapon," Albright said, "but it doesn't say that and there is nothing in the document that really would say this is a smoking gun, that Iran is working on a nuclear weapon design and this is part of a decision to build nuclear weapon."
"I think the story of the 'New York Times' has a very big mistake in it and it confuses the reentry-vehicle work with nuclear-warhead work," Albright said. Some of the other shortcomings he sees are that one cannot tell if any concrete work has been done on the warhead, and the reentry vehicle is not of very high quality.
Old Information
Albright added that information on the computer covers 2001-03, so one does not know what has happened in the last couple of years. He noted that the reentry vehicle that was seen in a Shahab-3 test flight in 2004 was of greater sophistication than the one described in the documents. Albright told Radio Farda that it is not at all certain that the reentry vehicle being designed is for a nuclear weapon. Albright expressed his misgivings about the report in a letter to the "New York Times."
Carnegie Endowment for International Peace associate Miriam Rajkumar, who is a coauthor of the book "Deadly Arsenals: Nuclear, Biological and Chemical Threats," also expressed significant skepticism about the information described in the "New York Times" report and about the source of that information in an interview with Radio Farda. (Listen to passages from Radio Farda's interview with Rajkumar. Click here for Real Audio and here for Windows Media.)
Rajkumar said there is a great deal of circumstantial evidence that raises suspicions about the Iranian nuclear program. "The very fact that they are even working on a Shahab missile means that they want to keep it operational," she said. "It all fits into what we already know and that is that at very least Iran is trying to keep its nuclear-weapon option open."
Bad Intelligence Again?
Both Albright and Rajkumar recalled Washington's assertions about an Iraqi nuclear-weapons program in the run-up to Operation Iraqi Freedom and the subsequent failure to find any evidence of such a program. They expressed concern that similar claims about Iran are surfacing.
The effectiveness of the U.S. effort to persuade IAEA officials of Iran's pursuit of nuclear weapons will be revealed after the 24 November meeting. The IAEA governors are also likely to be concerned by the continuing lack of Iranian cooperation with the agency. In a report distributed to the governing board on 18 November, IAEA Director-General Mohammad El-Baradei wrote that "Iran's full transparency is indispensable and overdue," AFP reported. Moreover, Iran is converting another batch of uranium at its facility in Isfahan, even though the IAEA's 24 September resolution specifically called for a halt to all such activities.
U.S. IAEA Governor Gregory Schulte
U.S. IAEA Governor Gregory Schulte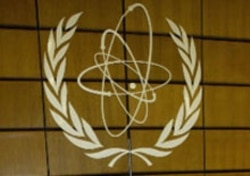 THE INTERNATIONAL COMMUNITY SPEAKS: Listen to excerpts from a November 22 Radio Farda interview with Gregory Schulte, the U.S. representative on the Board of Governors of the International Atomic Energy Agency (IAEA).


LISTEN
Listen to the complete interview:
Real Audio
Windows Media
THE COMPLETE STORY:
For RFE/RL's complete coverage of controversy surrounding Iran's nuclear program,
click here.
CHRONOLOGY: An annotated timeline of Iran's nuclear program.