The call came after Bosnia's political leaders agreed today to start a process of constitutional reform aimed at strengthening the country's central government.
Political representatives of Bosnia's Serbs, Croats, and Muslims reached the agreement during talks in Washington marking this week's 10th anniversary of the U.S.-brokered Dayton Accords.
Rice urged them to follow through on their pledge by next March and to help track down remaining indicted war criminals.
She told a luncheon attended by the three members of the Bosnian Presidency that the constitutional reforms they have committed to will advance their citizens' welfare.
"This is a historic step forward in modernizing the Dayton Accords and implementing this commitment is essential if Bosnia and Herzegovina are to reach the full goal of integration into Euro-Atlantic institutions," Rice said.
The Dayton Accords, which ended a three-year war, separated Bosnia into ethnic-based entities with largely autonomous powers. A federation of Bosnian Muslims and Croats controls 51 percent of the territory and a Serb Republic controls the remainder.
A statement from Bosnia's leaders today did not commit them to specifics such as a single presidency. But U.S. officials believe that a joint pledge from the Bosnians on reforming their constitution would lead inevitably to such a single entity.
The statement said Bosnia's leaders were embarking on a process that "will enhance the authorities of the state government and streamline parliament and the office of the presidency."
It acknowledged that further reforms of the constitution were necessary to meet the criteria for membership in the European Union.
Rice also said stressed the importance of tracking down remaining indicted war criminals, including Bosnian Serbs Ratko Mladic and Radovan Karadzic.
She repeated U.S. policy that failure to arrest war criminals will block membership in NATO. Rice praised a statement from Bosnian Serb leaders today that committed them to bringing war criminals to justice.
"I am pleased that earlier today, the leaders of Bosnia's Serb community stated publicly their unequivocal commitment to the capture, arrest and transfer to The Hague of Mladic and Karadzic," Rice said. "These are encouraging words and now they must lead to serious action. There can be no more excuses and no more delays. Ten years is long enough."
Rice also reaffirmed U.S. commitment to the other major unresolved Balkan issue -- the final status of the Serbian province of Kosovo.
"The United States fully supports the UN-led talks that began this week and we are using our influence to make a positive difference," Rice said. "Now it is time to chart Kosovo's future. With vision and courage and compromise we must reach an agreement that enables all Kosovars to live freely and in peace."
The UN envoy is former Finnish President Martti Ahtisaari, who arrived in the province yesterday. Kosovo's majority Albanian leaders insist on independence and Serb leaders in Belgrade are equally insistent this is impossible.
Meet The Newsmakers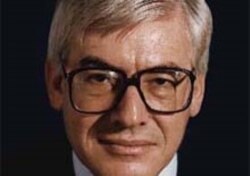 As part of its coverage of the 10th annversary of the Dayton Accord, RFE/RL spoke with Christian Schwarz-Schilling, who served as an international mediator in Bosnia-Herzegovina for nearly a decade and is now Germany's candidate to succeed Britain's Paddy Ashdown as the international community's and EU's high representative in Bosnia-Herzegovina.
(To listen the RFE/RL's interview with Mr. Schwarz-Schilling, click
here
for Real Audio or
here
for Windows Media.)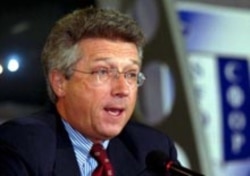 RFE/RL also spoke with Wolfgang Petritsch, the international community's high representative in Bosnia-Herzegovina in 1999-2002.
(To hear RFE/RL's interview with Mr. Petritsch, click
here
for Real Audio or
here
for Windows Media.)