Washington, 21 November 2005 (RFE/RL) – U.S. officials are marking the anniversary of the agreement that ended the Bosnian war with another urgent round of diplomacy involving Bosnian leaders.
U.S. Undersecretary of State Nicholas Burns told reporters late today that U.S. officials are looking for a commitment from the Bosnian leaders to reform government structures.
"What we hope they'll agree to [tomorrow] is, as political party leaders in the country, that they will dedicate themselves to this process of constitutional reform, that they will pursue that over the coming months in advance of the 2006 elections," he said. "We would hope that's what they would commit themselves to tomorrow."
The members of the Bosnian tri-presidency – Croat Ivo Miro Jovic, Muslim Sulejman Tihic, and Serb Borislav Paravac – were to meet U.S. Secretary of State Condoleezza Rice tomorrow to try to finalize an agreement.
Burns said an agreement on constitutional reform implies a narrowing of the three-person presidency to one person. He said it also assumes development of a strong prime minister and parliament, which would be consistent with other European states.
Earlier today, Burns told a conference on the Dayton peace agreement that Bosnia's future depends on political reform.
"Bosnia can't remain a fractured state and think that it can become part of the unified Europe or a unified NATO," he said. "It's that simple. It's a great challenge. We're not asking the political leaders to decide on all the details, they will be hard fought and they will be argued over for months to come. We're asking them tomorrow to state 'our ambition is a future unified state, we declare ourselves united in seeking that ambition. We will negotiate the details of that in the coming months.'"
The Dayton accords ended the bloodiest war in Europe since World War II but divided Bosnia into Serb and Croat-Muslim entities with considerable autonomy. There have been recent agreements to unite separate police and military structures but Western officials have been pressing for a stronger central government structure.
Burns told the conference, sponsored by the U.S. Institute of Peace, that Dayton was a "remarkable" diplomatic achievement that provided a decade of peace for Bosnia's warring ethnic groups. But he said the country's political structures must be modernized: "Dayton established a state with internal divisions, internal Berlin walls, separating one community from another because that was the only way to stop the war and to build a tentative and fragile peace. Ten years later these internal walls must now be torn down. The country's people -- the Croats, Serbs, and Muslims -- must be allowed to mix, they must be allowed to integrate as differing people do in normal multiethnic states."
Richard Holbrooke was chief architect of the Dayton accords in the administration of U.S. President Bill Clinton. Holbrooke told the conference the achievements of Dayton included an end to bloodshed, the emergence of a single country, and a single currency.
He said the mistakes of the Dayton agreement included permitting the name "Republika Srpska," allowing three armies to remain, and leaving a weak central government and tri-presidency.
Holbrooke spoke after Paravac, the Bosnian Serb member of the presidency, who defended the Dayton accords. Addressing Paravac, he said the Republika Srpska must recognize that "it is part of a single country called Bosnia-Herzegovina."
"It's very ironic that while the Serb side was enormously difficult at Dayton and threatened not to sign – and I'm talking here about the Bosnian Serb side which fought with Milosevic throughout the 21 days of Dayton -- it's very ironic that today you present yourself as the primary defender of Dayton," Holbrooke said. "You must help improve Dayton. There is too much power in the entities. It was a mistake that we made at Dayton."
The international community's high representative in Bosnia, Paddy Ashdown, told the conference the government's current top-heavy structure had kept it a "grindingly poor country."
"If you want to ask why you've got such terrifyingly bad hospitals in Bosnia and Herzegovina, especially in Republika Srpska; such poor education systems; such terribly low pensions, there's a very simple answer -- because you spend so much on government you've got nothing left to spend on your people," Ashdown said.
Ivo Miro Jovic, who is the Croatian member of the presidency, appealed to his colleagues to support constitutional changes: "In order to create a democratic and functional state, we are asking the Americans and Europeans to strongly support the constitutional changes that will make Bosnia and Herzegovina a democratic state and a secular state at the same time, the peoples and citizens of which will have normal and equal conditions for their education and work. Let's make that historic movement and let's create a complete constitution so that everyone in my country will be able to look forward to their life in that region."
In addition to a constitutional agreement, U.S. officials are counting on a renewed commitment from Bosnian leaders to track down war criminals.
Burns said members of the Bosnian Serb leadership tomorrow are expected to support calls for the arrest or surrender of war crimes suspect Radovan Karadzic.
Burns said such a statement was important because the Bosnian Serb community has given support to Karadzic for years. The other major at-large suspected war criminal, Ratko Mladic, is believed to be in Serbia. Western officials have said his handover is a prerequisite for Belgrade's entry into Euro-Atlantic institutions.
10 Years Of Dayton
On 21 November 2005, to mark the 10th anniversary of the Dayton agreement, a major conference on the past and future of Bosnia-Herzegovina was held in Washington, D.C. "Bosnia can't remain a fractured state and think that it can become part of the unified Europe or a unified NATO," U.S. Undersecretary of State Nicholas Burns told the conference. "It's that simple. It's a great challenge. We're not asking the political leaders to decide on all the details, they will be hard fought and they will be argued over for months to come. We're asking them tomorrow to state 'our ambition is a future unified state, we declare ourselves united in seeking that ambition. We will negotiate the details of that in the coming months.'" (more)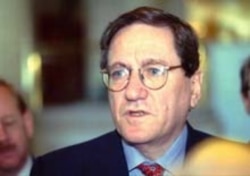 Listen to former U.S. envoy Richard Holbrooke's complete remarks to the 21 November conference:
Real Audio Windows Media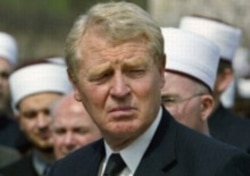 Listen to excerpts from the conference remarks of Paddy Ashdown, the international community's high representative in Bosnia:
Real Audio Windows Media