Land-Mine Projects Facing Budget Shortfalls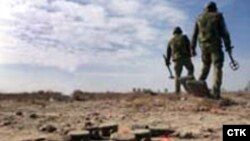 Troops clearing land mines in Afghanistan (file photo) (CTK) 23 November 2005 -- The United Nations says ongoing projects to remove land mines in 33 countries will face a $391 million budget shortfall in 2006.
To date, 147 countries have ratified the 1997 Ottawa Treaty banning the production, use, and sale of land mines. Last year, an international conference of the parties to the treaty adopted a plan to rid the planet of land mines by 2009.
But according to Dermot Carty of UNICEF, land-mine-clearing projects in many countries are at risk due to an acute lack of funding. Among the countries that have not ratified the land-mine treaty are China, India, Iran, the United States, and Russia.
(Reuters)