Uzbek Official Says Mines Cleared From Tajik Border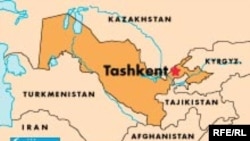 (RFE/RL) 20 October 2005 -- Uzbekistan's deputy chief of border guards said today his country had removed land mines from about one-fifth of its border with Tajikistan.
Speaking to reporters in the Tajik capital, Dushanbe, Rashid Habiev said completing de-mining will depend on the infiltration by who he called "bandits and drug kingpins."
However, Jonmakhmad Rajabov, head of the Tajik Mine Action Center, said authorities have no information that Uzbekistan has begun de-mining the border.
Uzbekistan mined its borders with Tajikistan and Kyrgyzstan after Islamic militants infiltrated in 1999. Scores of Tajik citizens have since been killed by land mines.
Last year, Tashkent announced it will remove the mines, but said the de-mining will take several years.
(AP/ITAR-TASS)