Ukrainian President Pledges Fair Elections In March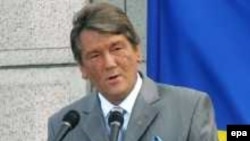 President Yushchenko (file photo) (epa) 26 November 2005 -- On the first official day of campaigning for parliamentary elections, Ukrainian President Viktor Yushchenko today called on all political parties in the country to ensure a democratic, honest, and transparent poll.
Elections to the 450-seat parliament are scheduled for March, the first parliamentary elections since the Orange Revolution last year brought new leadership to the country.
Yushchenko personally guaranteed the independence of the country's Central Election Commission and commissions at regional and district levels and free access of information for journalists.
Yushchenko also said he would not allow any outside interference in the election process.
For the first time, parliament's seats will be filled on a proportional basis with voters casting ballots for parties, not individual candidates.
(AFP/ITAR-TASS)

An archive of RFE/RL's reporting and analysis on Ukraine's Orange Revolution.
REVOLUTION IN THE AIR: Listen to an audio portrait of the Orange Revolution from RFE/RL's archives.
Real Audio Windows Media