Electoral officials said more than 93 percent of those who voted approved of the proposed amendments. Voter participation was reported at 65 percent.
The changes are meant to transfer some presidential powers to the parliament and to strengthen the judiciary. They should also allow millions of Armenians living abroad to obtain citizenship in the South Caucasus country.
Armenia's political opposition has denounced the vote as rigged, claiming President Robert Kocharian is pursuing the amendments to ensure he stays in power after the end of his term in 2008.
(panarmenian.net/ITAR-TASS)
The Government's View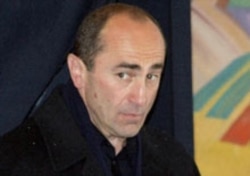 Armenian President Robert Kocharian (file photo)

A PRESIDENTIAL SYSTEM OR A PARLIAMENTARY SYSTEM? The Armenian government has issued a pamphlet of frequently asked questions about the 27 November referendum in order to get the state's view across. To read a complete translation of this document, click here.