If both sides fail to reach a compromise within the following month, the impasse may also affect a number of other European countries, to which Russia currently imports nearly 120 billion cubic meters of gas annually through Ukrainian pipelines.
Under the current barter arrangement, Ukraine is to receive 23 billion cubic meters of Russian gas in 2005 as payment for the transit of Russian gas across Ukraine. Gazprom prices its gas for Ukraine at $50 for 1,000 cubic meters, while Naftohaz Ukrayiny charges $1.093 per 1,000 cubic meters of gas per 100 kilometers of transit.
Russia's gas monopoly Gazprom on 28 November accused the Ukrainian oil and gas transport company Naftohaz Ukrayiny of sabotaging the talks.
Naftohaz Ukrayiny responded by saying that Gazprom's new conditions for gas transit to Europe and gas supplies to Ukraine sound like "ultimatums," adding that it would be Gazprom's sole responsibility if the Russian gas transit to Europe across Ukraine were to be interrupted.
Reading The Smallprint
Both sides are basing their arguments on the same governmental agreement signed in 2003.
Naftohaz Ukrayiny wants to retain the barter payment system and has argued that, under the agreement, Gazprom cannot demand an increase in gas price prior to 2009 or a change of the barter scheme prior to 2013.
Gazprom is sticking to another of the agreement's provisions. It says that, according to the agreement, specific conditions of gas transit, such as tariffs and the form of payment, should be determined on a yearly basis in a special protocol.
Gazprom said on 28 November that it had offered to Ukraine to sign a gas transit protocol for 2006 in accordance with international norms and under "European tariffs." The gas giant also said it wants to sign such a protocol ahead of discussing the price of gas supplies to Ukraine for 2006.
It is not clear what new transit tariff Gazprom is ready to pay to Naftohaz Ukrayiny. According to the Moscow-based "Vremya novostei" daily, the "European" gas transit tariff is $2-$2.5 per 1,000 cubic meters per 100 kilometers.
Rising Prices
What does seem likely is that Gazprom will hike the price that Ukraine pays for its gas.
Gazprom deputy head Aleksandr Ryazanov indicated as much on 29 November. "Of course, with the [former] price of $80 [for 1,000 cubic meters of Russian gas] at the border with Germany, the price of $50 for Ukraine, excluding transportation costs, was considered acceptable," Ryazanov said. "But when this price [for Germany] becomes $200, the price of $50 is too small. It doesn't even cover our real costs for production and transportation of the gas to the CIS countries."
Some Russian media reported earlier this year that Gazprom wants Ukraine to pay $160 for 1,000 cubic meters of gas.
That could be a big extra burden for Ukraine.
According to a calculation in the 29 November issue of "Vremya novostei," if Ukraine and Russia switch to "European" tariffs for gas transit and supplies, Ukraine will be unable to balance the purchase of the current volume of Russian gas with gas transit charges alone and will have to pay an extra $2 billion annually to Gazprom. This calculation, if correct, would explain why Naftohaz Ukrayiny has been reluctant to accept Gazprom's new proposals.
Until now, the Russian-Ukrainian gas talks have been conducted between Gazprom and Naftohaz Ukrayiny -- that is, formally at a corporate level. But some observers in both Russia and Ukraine have suggested that the current impasse can only be resolved by a political compromise, namely between the Russian and Ukrainian presidents, Vladimir Putin and Viktor Yushchenko.
Free Trade Zone
What could lie behind such a compromise?
One of the possible answers is that Moscow, by taking a tough stance on 2006 gas prices, is trying to push Kyiv into accepting Russian conditions for the creation of a free trade zone within the Single Economic Space (SES) of Russia, Belarus, Kazakhstan, and Ukraine.
Earlier this year, the four countries agreed to draft 29 principal accords on the SES free trade zone to make them ready for signing in December. Ukraine has so far agreed to sign 10 of these accords, arguing that the remaining ones would limit its sovereignty. Earlier this month in Moscow, Russian Deputy Prime Minister Viktor Khristenko reportedly told a Ukrainian delegation that Kyiv has a clear choice -- either to sign 29 of them or none at all.
That the Russian-Ukrainian gas talks may somewhat be connected with the SES was indirectly confirmed by President Yushchenko this week.
Yushchenko suggested for the first time during his presidency that it would be logical for Ukraine to transfer a part of its sovereignty to supranational bodies if the country wanted to take advantage of the SES's joint market.
"Let us imagine that we have a free flow of goods, services, and capital, and we have a unified transit policy [within the SES]," Yushchenko said in Kyiv on 28 November, according to the BBC's Ukrainian Service. "What next? A tariff policy. If we accept these three things, then an obvious question will present itself: How to transfer a part of national sovereignty in order to form and pursue these three policies?"
But while the connection between the SES and Russian gas supplies to Ukraine in 2006 has yet to be confirmed, it is already clear that Russia has begun to use gas supplies to CIS countries as a political tool.
Moscow has unambiguously signaled that it wants to considerably increase gas prices for Ukraine, Moldova, and Georgia in 2006. At the same time, Putin said Belarus will continue to receive Russian gas at an unchanged, discount price of $48.68 per 1000 cubic meters.
Interview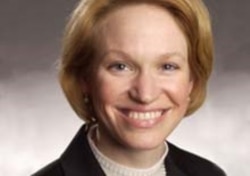 Celeste Wallander directs the Russia and Eurasia Program at the Center for Strategic and International Studies and is a CSIS senior fellow. Before joining CSIS, she was senior fellow at the Council on Foreign Relations in Washington, D.C., and associate professor of government at Harvard University. She is the founder and executive director of the Program on New Approaches to Russian Security. Her recent projects include work on U.S.-Russian security cooperation, the history of Russia and globalization, HIV/AIDS in Russia, and the 2004 Ukrainian presidential election. Among her books are "Swords And Sustenance: The Economics Of Security In Belarus And Ukraine" and "Mortal Friends, Best Enemies: German-Russian Cooperation After The Cold War." She is currently writing "Global Russia: Economics, Politics, And Security."
On November 29, 2005, she spoke with RFE/RL's Ukrainian Service about Russia's energy policies and how Moscow might be seeking to leverage its influence over its neighbors. Listen to the complete interview.
Real Audio Windows Media
To read a transcript of the interview,click here.
Related Articles: