Yushchenko Says Ukraine Needs To Develop Trade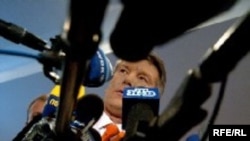 President Viktor Yushchenko (RFE/RL) 28 November 2005 -- Ukrainian President Viktor Yushchenko said his country needs to do more to develop trade and economic ties with both Russia and the European Union.
The call came at a roundtable on problems facing Ukraine one year after the Orange Revolution that brought Yushchenko to power. Yushchenko said Ukraine must work harder to develop a free market, saying "no serious investor will come" to Ukraine until broad economic reforms are pushed through.
His comments come as Kyiv and Moscow are in dispute over natural gas supplies. Russia says its gas sales to Ukraine should be made at world market prices, which would more than triple the amount Kyiv currently pays.
EU foreign policy chief Javier Solana praised better ties between Brussels and Kyiv ahead of a December EU-Ukraine summit.
(ITAR-TASS/www.for-ua.com)