Russia: Prominent Journalist To Defend Journalists' Rights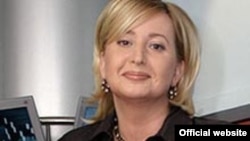 Olga Romanova (official website) Just when it seemed impossible for Russian television to become any less controversial, the new owners of REN-TV announced on 28 November that they were pulling journalist Olga Romanova off the air for a three-month period.
REN-TV is considered by many to be the last remaining independent television stations with a national reach.

Romanova has vowed to fight the station's decision, saying she will take the case to court. At a news conference in Moscow on 29 November, she said that she wanted to create a precedent and see if the law can be enforced in Russia, AFP reported.

"The management of REN-TV is knowingly ignoring Russian law on journalists' rights. They refuse to understand that a journalist...has responsibility towards society, not just to management," she said.

Romanova's hiatus follows an incident on 24 November when armed security guards prevented her from entering the studio to host her program, "24 Hours."

Romanova told RFE/RL on 25 November that prior to the showdown, REN-TV General Director Aleksandr Ordzhonikidze had pulled two recent stories for what she considered were political reasons.

She said one of the censored segments featured an investigation into the involvement of Defense Minister Sergei Ivanov's son in a traffic accident in which a woman was killed. Romanova complained to Ekho Moskvy on the air about the alleged censorship on 23 November -- the day before she was barred from entering her studio.

The management of REN-TV has denied that political considerations motivated its decision to cancel Romanova's program.

Ordzhonikidze told Ekho Moskvy on 28 November that Romanova's dismissal should not have been unexpected for her, since "for the past month, we have been thinking about how to raise the ratings of our programs." The general director also said that he could not provide greater detail about all that was happening at the station because to do so would violate corporate ethics.

His remarks suggest that since Romanova aired her grievances with company management publicly, she could be held liable for violating for violating company ethics.

Employment Violations
A similar charge was levied at Leonid Parfenov, a popular NTV host, who was fired in June 2004 for violating his employment agreement, which obligated him "to support the company leadership."

Parfenov had complained when the channel decided not to air an interview with the widow of former acting Chechen President Zemlikhan Yandarbiev on his show "Namedni." That show was cancelled despite having high ratings.

The move against Romanova has not surprised many Russian media watchers. Oleg Panfilov of the Center for Journalism in Extreme Situations told RFE/RL: "After the ownership of the television station changed, I watched especially closely all of Olga Romanova's programs, and with each program, it seemed to me that [the program] would be yanked off the air at any moment," Panfilov said.

Panfilov also said that only REN-TV -- and not the other national television stations -- showed the 4 November march of some 3,000 people from ultra-nationalist groups, such as Pamyat and Russian National Unity, through the streets of central Moscow.

Ownership Change
Some have suggested that the Kremlin -- albeit indirectly -- is putting pressure on REN-TV.

Last July, the electricity monopoly Unified Energy Systems (EES) sold its 70 percent stake in REN-TV to the steel producer Severstal. Severstal in turn sold a 35 percent stake to Russia's fourth-largest oil producer Surgutneftegaz last September. The German RTL Group owns a 30 percent stake in REN-TV.

When Surgutneftegaz made its purchase, Aleksei Makarkin of the Center for Political Technologies suggested that Severstal served as a "political middleman." According to Makarkin, transferring shares directly from EES to Surgutneftgaz, considered close to the St. Petersburg "siloviki" in Putin's entourage, would have appeared to be official pressure on REN-TV's editorial policy.

Romanova, however, has disputed claims that the Kremlin had a hand in the station pulling her program. She told "The Moscow Times" on 28 November that Ordzhonikidze is "simply doing the best he can to please the Kremlin."

In the meantime, Romanova is supposed to use the next three months to develop a new program. If she follows in the footsteps of fellow television journalist Parfenov, she will switch to a format that is less controversial with the authorities and less popular with viewers, such as documentaries.