Bird Flu Appears For First Time In Ukraine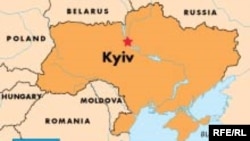 (RFE/RL) 3 December 2005 -- Ukrainian officials confirmed today that bird flu cases had been recorded for the first time in the country.
According to preliminary test results, the H5 virus strain of the avian flu was found among domestic chickens and geese in two regions of Crimea.
Mariya Miroshnichenko, the chief of the state veterinary service in Crimea, said the poultry died "with lightning speed," and "the toxicity of the virus is very high."
Earlier today, Ukrainian officials said that the H5 virus strain was found among domestic chickens and geese in the regions of Sovyetskiy and Nizhnegorskiy in Crimea.
The Interfax news agency said that some 90 percent of domestic birds kept in some individual farms died due to the disease.
Crimea is a major resting point for migrating birds, which are thought to be the main carriers of bird flu.
(AFP/AP)