OSCE Says Kazakh Presidential Vote Flawed
President Nazarbaev at a rally 5 December with his daughter, Dariga (epa) Astana, 5 December 2005 (RFE/RL) -- The Organization for Security and Cooperation in Europe (OSCE) today said that yesterday's presidential election in Kazakhstan did not meet international democratic standards, reported RFE/RL's Kazakh Service.
The OSCE says President Nursultan Nazarbaev's victory had been marred by ballot-stuffing, intimidation, interference, campaign restrictions, and other violations.
The OSCE says the election process broke down during the count, which it says was "bad or very bad" in 25 percent of the counts observed.
Meanwhile, a British parliamentary group that monitored the election is saying that it sees no reason to doubt the integrity of the vote.
The group, led by Lord Cecil Parkinson, says the vote was "the freest, fairest, and certainly the most transparent" election in Kazakhstan's independent history.

Kazakh electoral authorities say the incumbent won 91 pecent of the vote.
Russian President Vladimir Putin on 5 December phoned Nazarbaev to congratulate him on his election victory.
(with Kazinform/dpa/Reuters/AFP/AP/ITAR-TASS)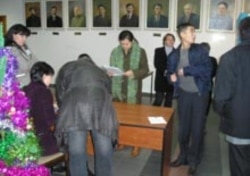 Workers at Almaty polling station No. 310 registering election monitors prior to the opening of voting on December 4


To see more images collected by RFE/RL's Kazakh Service during the voting on December 4,
click here.



RFE/RL's complete coverage and background of Kazakhstan's presidential election on December 4, 2005.