Iran To Build Second Nuclear Reactor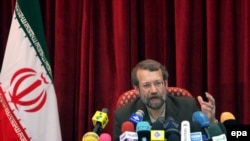 Ali Larijani speaking to the press on 5 December (epa) 5 December 2005 -- Iran's chief atomic negotiator, Ali Larijani, says Tehran will invite bids to build a new 1,000-megawatt nuclear reactor, despite Western pressure on Tehran to scale back its nuclear ambitions.
However, Larijani, head of the Supreme National Security Council, did not say when the tender would be announced or when construction would begin.
Iran's first 1,000-megawatt reactor, which is being built with Russian help in the southern port of Bushehr, will come onstream in late 2006.
The West is pressing Iran to abandon its nuclear fuel activities as a guarantee that it will not be able to produce highly enriched uranium, which can be used for nuclear weapons. Iran insists, however, that it has the right to process uranium and says its nuclear program is solely to generate electricity.
(Reuters)

THE COMPLETE PICTURE: RFE/RL's complete coverage of controversy surrounding Iran's nuclear program.
CHRONOLOGY
An
annotated timeline
of Iran's nuclear program.