Hague Tribunal Sentences Croatian Policeman To 20 Years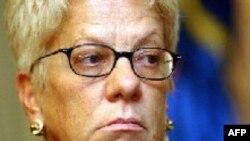 Carla Del Ponte, chief prosecutor of the UN War Crimes Tribunal (AFP) 7 December 2005 -- The Hague-based UN War Crimes Tribunal for the Former Yugoslavia today sentenced former Croatian police officer Miroslav Bralo to 20 years in prison for the multiple murder, rape, and torture of Bosnian Muslim civilians in 1993.
Bralo served as a member of the 4th Military Police Battalion of the Croatian Defense Council during the Muslim-Croat war in central Bosnia. Bralo, who surrendered to the tribunal in November 2004, pleaded guilty to eight charges in July.
(dpa)

SUBSCRIBE
For a regular review of politics, media, and RFE/RL broadcasts in the western Balkans,
subscribe to "RFE/RL Balkan Report."