Ukraine Talks Of 'Massive' Number Of Bird-Flu Deaths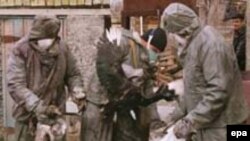 Members of the Ukrainian Emergency Situations Ministry culling poultry, 4 December (epa) 7 December 2005 – Latest reports on the spread of avian flu in Ukraine suggest a "massive" number of deaths in six villages on Ukraine's Crimean peninsula, a spokesman for Ukraine's Emergency Situations Ministry said on 7 December.
He declined to specify a number. Tests are underway to determine the exact cause of death.
The six villages are in the northeast of Crimea, in the same region as five towns that had previously reported the death of some 2,500 poultry from avian flu.
Kyiv declared a state of emergency on 3 December in an effort to contain the spread of the infection.
The birds are thought to have contracted the virus from wild birds using the nearly Sivash saltwater lake as a stopover or wintering site.
It is not known yet if the virus in Ukraine is the H5N1 strain responsible for the death of at least 68 people in Asia since 2003.
(AFP/Reuters)

RFE/RL Belarus, Ukraine, And Moldova Report

SUBSCRIBE For weekly news and analysis on Belarus, Ukraine, and Moldova by e-mail,
subscribe to "RFE/RL Belarus, Ukraine, And Moldova Report."