Prague, 7 December 2005 (RFE/RL) -- Saddam Hussein declared yesterday that he would no longer take part in what he called an "unjust" court that was "made in America":
"The Zionists and the Americans want to execute Saddam Hussein," he said. "And they are smaller than a mosquito if they don't do this. This is not the first time I have faced a death sentence."
Hussein's defense attorneys say he is exhausted and has not had a chance to change his clothes in three days.
The chief judge, Rizgar Muhammad Amin, appeared keen to see Hussein in court. He held lengthy talks with Hussein's defense lawyers behind closed doors today in what one court official described as an attempt to ensure Hussein's presence.
RFE/RL correspondent Nabil Haidari reported from Baghdad that the discussions delayed today's session by about four hours. "The latest we have is that a member of the defense team and Saddam himself are [still] refusing to appear in front of the judge. And this seems to be the main reason for not resuming the trial [as originally scheduled]," Haidari reported.
When Amin finally convened the session, Hussein was nowhere to be found. But his seven co-defendants were present in the courtroom. The eight men are accused of ordering and carrying out the massacre of almost 150 Shi'a from the village of Al-Dujayl after a failed assassination attempt against Hussein there in 1982. If found guilty, they face maximum penalties of death by hanging.
Today's hearing was expected to be short, with just two witnesses scheduled to testify.
Persistent security problems continue to plague the trial or those associated with it. Two defense lawyers for Hussein's deputies have been killed since the start of the trial on 19 October. Another fled the country after being attacked. In the northern city of Kirkuk today, 20 gunmen stormed a hospital and freed a detainee accused of being part of an Islamist group planning to assassinate the top Iraqi judge investigating Hussein.
Iraqi police today said gunmen also kidnapped the 8-year-old son of a security guard who is working at the trial. The guard, Salam Jerlis, said his neighbors witnessed the abduction of his son Karam while he was playing near his home.
"He was playing with children outside the house at about 5:30 p.m. [yesterday]. He was playing football. [The neighbors] told me that a yellow car came and snatched him in seconds," Jerlis told Reuters.
The kidnapping of the boy occurred as witnesses from Al-Dujayl were giving testimony about being tortured by intelligence agents in 1982.
Among the most harrowing testimony was that of a woman identified publicly as Witness A. She said she was 16 when she was arrested in 1982 along with other residents of Al-Dujayl. She spoke from behind a curtain, and used a voice modulator to help protect her identity.
"They beat me with plastic cables and told me to talk," she said. "I was obliged, despite myself. They put my legs up and tied my hands. [An interrogator] used electric shocks on me and told me to talk."
After today's testimony, it is expected that the trial will be adjourned for at least several weeks while the country holds legislative elections set for 15 December.
The Tragedy At Al-Dujayl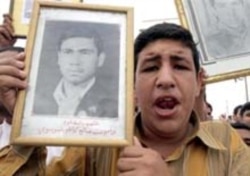 A protester in Baghdad carries a picture of a relative killed at Al-Dujayl (AFP file photo)


READ
Former Iraqi dictator
SADDAM HUSSEIN
and seven of his associates went on trial on October 19, 2005, on charges of crimes against humanity for the regime's role in the deaths of 148 residents from the town of Al-Dujayl, and the imprisonment of 1,500 others following a botched assassination attempt against Hussein there on July 8, 1982. Following the arrests and deportations, the regime leveled the town...
(more)
See also:
Al-Dujayl Native Tells Her Story
Al-Dujayl Survivor Says 'We Want The Deserved Punishment For The Guilty